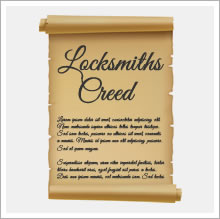 A locksmith always remembers his
public trust.
With him rests the security of property and fortune.
As a public guardian he shuns the dishonest, the wicked and the avaricious.
For thousands of years, he and his predecessors have placed trust and honour above temptation.
He is an artist at his trade and the symbol of 'skill and integrity' to the world.
THE MASTER LOCKSMITH ASSOCIATION
Is the association formed by locksmiths in the United Kingdom to act as a co-ordinating body.
It exists to promote the Traditional crafts and skills of one of the world's oldest and most respected profession. Its members are pledged to uphold the highest standards of integrity, workmanship and ethical conduct.
Great care is taken over the acceptance of a new member, who must have considerable experience in his chosen section of the trade and be good standing as a citizen, having an unquestionable character and be able to conduct himself in a dignified manner.
The Association exists to promote among its members a spirit of fellowship and co-operation in accepting the Locksmiths creed as their standard.