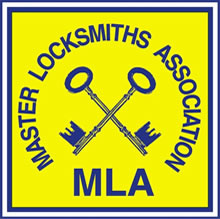 Why use an MLA approved company?
Often businesses will contact their local builder, or use in-house maintenance personnel, to fit, replace or repair locks, but incorrect application of locking systems may invalidate their insurance.
MASTER LOCKSMITHS ASSOCIATION has an freephone call line allowing people to locate an APPROVED COMPANY:
0800 783 1498
This number may also be used to authenticate locksmiths claiming to be members of the MASTER LOCKSMITHS ASSOCIATION.
MLA Trade Division members are approved by inspection.
The MLA inspections are to a high standard recognised by insurers and police.
These companies can give advice on all aspects of physical security.
Approved Companies' work may include some or all of the following:
Locks and keys
Electronic Access
Safes
Alarms
Vehicles
Strongrooms
Grills and Shutters
CCTV
Many other areas of Security
To ensure that you obtain the correct advice, supply and installation contact:
MASTER LOCKSMITHS ASSOCIATION
5D Great Central Way
Woodford Halse
Daventry
Northants
NN11 3PZ
Tel: 01327 262255
Fax: 01327 262539