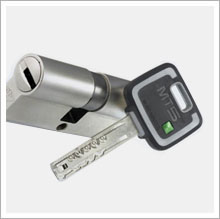 If you are an individual or organisation who requires many different locks to be operated by specific keys, say in an office environment for example, but want to prevent bunches of unnecessary keys, while limiting access to others, then we are able to pin up cylinders to your specification complete with master keys.  Feel free to contact us to discuss pricing and options.  We are also able to hold onto records should you want us to, so you can order keys to code.
Think of a masterkey system like an organisation, at the top there is the Managing Director who has ultimate power and responsibility, like the grand master key which can open everything, then there are the senior managers who have power over all of their subordinates but not over other senior managers, these are like the submaster keys, and so on down the hierarchy until you have for example the machine operator who has responsibility only for themselves, which is similar to the servant key in the system.  Here are some examples of where master keys are being used:
Domestic premises
Multi-tenanted buildings and flats
Schools, colleges and universities
Health centres
Council and local authorities
Retail environments
Offices
Businesses with numerous doors that require restricted access.
Our Locksmiths can design master keys systems to cylinder operated locks, padlocks, cam and cabinet locks, mortice locks or any combination of these locks.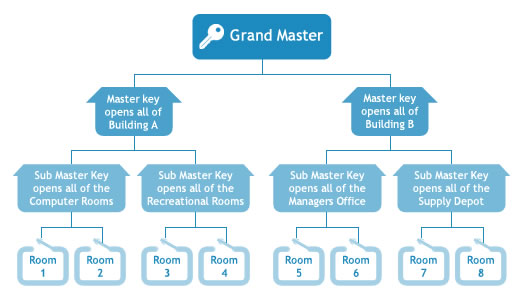 With our in house assembly facility we are able to supply or supply and install master keyed cylinders pinned to your requirements. The systems can vary from economy to high security and interchangeable cores all with restricted key sections if required giving you complete control over the system.
Master key systems and suites can be designed and maintained by our in-house master key department. Through our after sales service we are able to service or supply extra cylinders and keys on the same day basis.
Master Key Systems that we stock include:-
Multlock
Evva
Assa
Arrow
Union
Yale