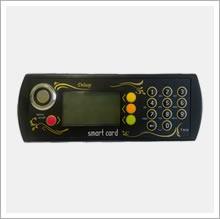 Smartcard Deluxe is a high end RFID card and fob duplication machine designed for locksmiths. It duplicates most access control cards, fobs and Buttons / Smart keys on the market by simply presenting the existing card to the machine. The machine reads the chip and then you copy it by presenting the special Smartcard Deluxe card / fob to the machine. In two seconds, you now have a copied card or fob!
The Smartcard Deluxe duplicator is a perfect tool for locksmiths who can provide their customers with duplicate electronic cards and fobs for proximity access control, stand alone electronic locks in buildings, car parks etc.
It can be used as a duplication machine along with standard key cutting in a retail store. It can be used as a marketing tool to upgrade customer's low security access control systems which can be replaced with mechatronic or supported with mechanical key systems to offer more security.
The device clones only the existing cards etc and does not create new cards or identity. The device if in the wrong hands can be easily used to copy a card or fob without the knowledge of the user and their identity stolen. Customers need to be made aware of this potential breach of their security.
Software updates are available for new cards coming to market. Every effort will be made to gather information on cards from around the world and to upload the machine via your computer and special cable attachment supplied. Users are notified by email about updates.
Smartcard Deluxe is sold as a starter pack with 20 cards, 20 fobs and 10 I-buttons included. It is priced to give you an immediate return on your investment. The unique reusable Smartcard Deluxe cards, fobs and I-buttons can be purchased separately in packs of 100 for further sales.
It is supplied only to locksmiths and people involved in the security business who belong to a recognised security association.