Features of the TFD1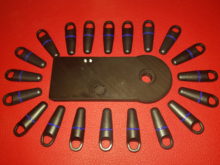 After 2 years in Development we can proudly introduce the TDF1 tear drop or bullet fob duplicator.
The TDF1 is a dedicated standalone device that will copy a customer's fob in seconds.
Providing a valuable extra level of customer service to your business.
With the versatility to be used either static in your retail premises or workshop, or even out on the road using the supplied USB cable.
Simply drop the fob to be copied into the reader, press the button to read, remove the fob and place a blank fob into the reader and press the button again, its that quick.